Tech Needed to Improve Air in China
Legislators and political advisers have called for advanced technologies to be used in helping China battle air pollution, with the nation soon due to test a cutting-edge drone designed to clear smog.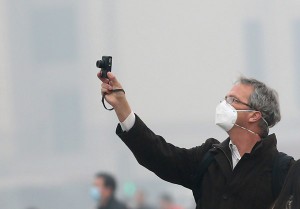 "Science and technology play a very significant role in cutting down pollutants," said Wang Xiangchao, a researcher at the Shanghai Institute of Optics and Fine Mechanics under the Chinese Academy of Sciences. "Once the source of pollutants is determined, we can resort to advanced technology, which can effectively help prevent or reduce the hazards imposed by smog."  Wang called for his fellow scientists to invent more economical and effective air purifiers.
President Xi Jinping and Premier Li Keqiang have reiterated their concerns over the environment and air pollution in their discussions with deputies to the National People's Congress, China's top legislature. Li told deputies from Shandong province that the PM2.5 problem must be handled with strong measures and asked that highly polluting vehicles be banned.
It will carry out its first smog dispersal test at airports or ports in Ningbo, Zhejiang province, said Ma Yongsheng, a deputy to the NPC and chairman of AVIC Aerospace.The top leaders' remarks come as Chinese aviation designers prepare for the test flight of the SYW-1 drone to see if it can clear smog.  The unmanned aerial vehicle, with a glide parachute, has been developed and manufactured by AVIC Aerospace, a subsidiary of the Aviation Industry Corp of China.
The  drone is 90 percent cheaper to operate than the fixed-wing aircraft that have been used to disperse smog for several years.  The drone can carry 80 kg of smog-dispersing chemicals and can remain airborne for three hours, AVIC Aerospace says. A future model will be able to carry 700 kg of chemicals.  It can also be used for agricultural seeding, disaster relief and aerial mapping.
Officials in Beijing are considering measures to ease air pollution, such as creating artificial rain by cloud seeding.  Artificial rainfall is a proven way to disperse air pollutants to improve air quality in the short term, said Wu Zhihui, deputy head of Hebei Meteorological Bureau's weather modification office.
"We used cloud-seeding rockets to make rainfall on Feb 26 to cut air pollutants in Shijiazhuang more quickly," he said, adding that the measure reduced the PM2.5 reading from an excessively dangerous level of 500 to 145.  Feng Yongfeng, founder of the Beijing environmental non-governmental organization Green Beagle, said the release of chemical substances for the artificial rain, including silver iodide, is highly likely to pollute soil and water.
Unless there is no other option, it is better not to manipulate the weather to reduce smog, but rather use the strategy as an emergency plan, he said.
http://europe.chinadaily.com.cn/business/2014-03/07/content_17330971.htm